SABIC launches industry-first clear and lightweight LEXAN™ sheet solutions for aircraft interiors
SABIC has announced two revolutionary LEXAN™ sheet solutions for aircraft interiors today at the Aircraft Interiors Expo. These innovative, new offerings – clear LEXAN XHR2000 sheet and LEXAN LIGHT F6L300 sheet — will help provide long awaited solutions to airlines' quest for differentiated cabin interior designs while also helping to take out significant weight, resulting in a more fuel efficient aircraft. Design engineers will benefit from these lightweight, durable materials which can help to reduce system costs, offer ease of fabrication and comply with the industry's strict regulatory standards.
"SABIC understands the need for its aircraft interior customers to not only stay ahead of design trends, but also to meet the demand for lighter weight aircraft interior components that can help improve overall fuel efficiency of the aircraft. SABIC's durable, lightweight LEXAN XHR2000 and LEXAN LIGHT F6L300 sheet solutions are market-first solutions, created to help our customers remain at the forefront of innovation in this exciting environment where aesthetics, safety and sustainability are all critical," said Kim Choate, Director of Mass Transportation for SABIC's Innovative Plastics business.
CLEAR LEXAN XHR2000 Sheet Provides New Transparent Options for Aircraft Interior Design
Aircraft interior designers are often restricted by the clarity and compliance limitations of the transparent materials currently available to them. With 80% light transmission – the highest level of light transmission available in an OSU-compliant sheet material today – SABIC's new clear LEXAN XHR2000 sheet is a pioneering option for aircraft interiors with this level of transparency while still meeting OSU 65/65 heat release and typical industry flame, smoke, toxicity (FST) requirements (FAR25.853, BSS7239, ABD0031).
Robust vertical burn performance is also possible with the use of a post-secondary process, such as a functional coating or laminated film, which adds further design, chemical resistance and scratch resistance properties. LEXAN XHR2000 sheet facilitates the design of large components such as security partitions and oversized windows, which are becoming increasingly popular in top deck designs. Additionally, it enables future innovation, helping designers find answers to unmet needs, such as the evolution of self-service refreshment stations on aircraft which require large transparent windows so that passengers can see what is available. Other potential applications include partitions, dust covers, instrument displays, entertainment screen partitions and divider panels, galley equipment panels, protective panels, stairs/railing panels, barriers, windows, mirrors, lighting lenses, door and refrigeration systems and printed, custom laminated applications that require transparent/translucent graphic designs.
Lightweight LEXAN LIGHT F6L300 Sheet Boosts Fuel Efficiency
SABIC's new patent-pending high performance LEXAN LIGHT F6L300 sheet is the lightest thermoplastic sheet option available today regardless of base material that complies with flame, smoke and OEM toxicity. With a specific gravity of 0.85 g/cm3, it offers up to 40% weight savings when replacing traditional polyvinyl chloride and acrylic blend (PVC/PMMA) -based sheet products for potential applications such as seating parts, cockpit dashboard enclosures, partitions, luggage compartments and passenger service units. LEXAN LIGHT sheets meet typical industry flame, smoke density and toxicity requirements (BSS7239, ABD0031). On average, an aircraft will burn about 0.03 kg (.06 lbs) of fuel per hour for each kilogram (2.2 lbs) carried on board. Given that the total commercial fleet flies approximately 57 million hours per year, cutting just one kilogram per flight would save roughly 1,700 tons of fuel and 5,400 tons of carbon dioxide (CO2) per year1.
Using LEXAN LIGHT sheet to replace high-toxicity PVC/PMMA products on seating frames can help reduce weight by approximately 121.6kg (268 lbs.) based on an aircraft with average of 190 seats, which can help the total commercial fleet save roughly 206,720 tons of fuel and 656,640 tons of carbon dioxide (CO2) per year. This potential savings is due to LEXAN LIGHT sheet's innovative closed cell structure, which can be thermoformed into complex 3D shaped parts with very thin walls, down to 0.6 mm, offering substantial potential for overall weight savings and fuel efficiency across an airline fleet.
SABIC will present LEXAN LIGHT F6L300 sheet and LEXAN XHR2000 sheet, as well as numerous other innovative solutions for the aircraft interiors industry, at the Aircraft Interiors International Expo in Hamburg, Germany, April 8-10 2014.

1 Enviro.aero has been established by the commercial aviation industry body, the Air Transport Action Group (ATAG). ATAG is based in Geneva, Switzerland, and is the only global association that represents all sectors of the air transport industry. Its mission is to promote aviation's sustainable growth for the benefit of global society.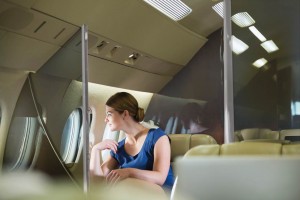 WITH 80% LIGHT TRANSMISSION – THE HIGHEST LEVEL OF LIGHT TRANSMISSION AVAILABLE IN AN OSU-COMPLIANT SHEET MATERIAL TODAY – SABIC'S NEW CLEAR LEXAN XHR2000 SHEET IS A PIONEERING OPTION FOR AIRCRAFT INTERIORS WITH THIS LEVEL OF TRANSPARENCY WHILE STILL MEETING OSU 65/65 HEAT RELEASE AND TYPICAL INDUSTRY FLAME, SMOKE, TOXICITY (FST) REQUIREMENTS (FAR25.853, BSS7239, ABD0031).
AIRCRAFT SIDEWALL WHICH THERMOFORMED OUT OF LEXAN LIGHT F6L306 SHEET BY HAGANS PLASTICS IN GRAND PRAIRIE, TX, USA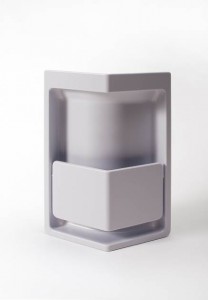 MAGAZINE HOLDER WHICH IS THERMOFORMED OUT OF LEXAN™ LIGHT F6L306 SHEET BY ZODIAC ENGINEERING PLASTICS IN ONTARIO, CA, USA

Notes to Editors
SABIC'S NEW PATENT-PENDING HIGH PERFORMANCE LEXAN LIGHT F6L300 SHEET IS THE LIGHTEST THERMOPLASTIC SHEET OPTION AVAILABLE TODAY REGARDLESS OF BASE MATERIAL THAT COMPLIES WITH FLAME, SMOKE AND OEM TOXICITY.
Brands marked with ™ are trademarks of SABIC
SABIC is a registered trademark of SABIC Holding Europe B.V.
High-resolution photos are available upon request
SABIC should be written in every instance in all uppercase
About SABIC
Saudi Basic Industries Corporation (SABIC) ranks among the world's top petrochemical companies. The company is among the world's market leaders in the production of polyethylene, polypropylene and other advanced thermoplastics, glycols, methanol and fertilizers.
SABIC has announced its unaudited financial results with a net profit of SR 25.23 (US$ 6.73 billion) in 2013. Sales revenues for 2013 totaled SR 189 billion (US$ 50.4 billion). Total assets stood at SR 339 billion (US$ 90.4 billion) at the end of 2013.
SABIC's businesses are grouped into Chemicals, Polymers, Performance Chemicals, Fertilizers, Metals and Innovative Plastics. SABIC has significant research resources with 18 dedicated Technology & Innovation facilities in Saudi Arabia, the USA, the Netherlands, Spain, Japan, India, China and South Korea. The company operates in more than 40 countries across the world with around 40,000 employees worldwide.
SABIC manufactures on a global scale in Saudi Arabia, the Americas, Europe and Asia Pacific.
Headquartered in Riyadh, SABIC was founded in 1976 when the Saudi Arabian Government decided to use the hydrocarbon gases associated with its oil production as the principal feedstock for production of chemicals, polymers and fertilizers. The Saudi Arabian Government owns 70 percent of SABIC shares with the remaining 30 percent held by private investors in Saudi Arabia and other Gulf Cooperation Council countries.
About Innovative Plastics
SABIC's Innovative Plastics business is a leading, global supplier of engineering thermoplastics with an 80-year history of breakthrough solutions that solve its customers' most pressing challenges. Today, Innovative Plastics is a multi-billion-dollar company with operations in more than 35 countries and approximately 9,000 employees worldwide. The company continues to lead the plastics industry with customer collaboration and continued investments in new polymer technologies, global application development, process technologies, and environmentally responsible solutions that serve diverse markets such as Healthcare, Transportation, Automotive, Electrical, Lighting and Consumer Electronics. The company's extensive product portfolio includes thermoplastic resins, coatings, specialty compounds, film, and sheet. Innovative Plastics (www.sabic-ip.com) is a wholly owned subsidiary of Saudi Basic Industries Corporation (SABIC).
Innovative Plastics Media Contacts
Banu Kukner – Functional Forms
T: +31 164-291605
Jason Forget – Innovative Plastics
E: media.inquiries@sabic-ip.com
T: +1 413-448-5890
Agency Media Contacts
James Page
P: +44 207-067-0206