SABIC LAUNCHES ISCC CERTIFIED LEXAN™ POLYCARBONATE FILM & SHEET BASED ON RENEWABLE FEEDSTOCK
BERGEN OP ZOOM, THE NETHERLANDS, JULY 26, 2021
SABIC, a global leader in the chemical industry, has announced that its Functional Forms plant in Bergen op Zoom, The Netherlands, has been accredited under the International Sustainability & Carbon Certification (ISCC) PLUS scheme for providing a new range of LEXAN™ film and sheet products based on certified renewable feedstock. The new film and sheet product offering connects with the company's existing TRUCIRCLE™ initiative and responds to a globally growing demand for further sustainable material solutions in an increasingly more circular plastics economy.
"We are proud of being the first in the industry to receive ISCC PLUS certification for film and sheet products based on renewable polycarbonate," says Bart Kiekens, Segment Leader Electrical & Electronic Films Europe for SABIC's Functional Forms business in Bergen op Zoom. "This gives our LEXAN film and sheet customers a valid alternative for enhancing their environmental balance and achieving ambitious sustainability targets."
The ISCC PLUS certification honors the implementation of a mass balance accounting system that traces the material flow across complex supply chains from the feedstock to final products by following predefined and transparent rules. These rules then define whether a product can be classified as renewable or circular. For SABIC this means that for each ton of renewable or circular feedstock fed into the production process and substituting fossil-based feedstock, approximately one ton of the output material can be classified as either renewable or circular. The mass balancing approach also allows OEMs to document and quantify the sustainability of their applications made from these certified materials.
In addition, SABIC has performed a life cycle analysis (LCA), assessing the environmental performance of the renewable route in comparison to the traditional fossil-based route at both cradle-to-gate and cradle-to-gate plus end-of-life levels, relying on PAS* 2050 methodology for biogenic carbon accounting. The results show that each kilogram of SABIC polycarbonate resin based on certified renewable feedstock has the potential for reducing fossil depletion by up to 35 percent and lessening the carbon footprint of applications by up to 60 percent. Overall, this also makes a significant contribution to SABIC's efforts of mitigating the impact of its products on climate change.
"Our new bio-based LEXAN film and sheet products are manufactured using polycarbonate resin partially sourced from second-generation feedstock that is not in direct competition with the food chain," adds Alda Shabanaj, Product Manager Film & Mass Transportation Europe at SABIC. "The resulting materials can help our customers create value with durable and recyclable application solutions across multiple industries. That's what we mean by CHEMISTRY THAT MATTERS™."
SABIC's innovative LEXAN polycarbonate film and sheet products based on certified renewable feedstock, produced in Bergen op Zoom (The Netherlands) production site, are globally available and target demanding applications in a wide range of different markets, including building and construction, electrical and electronics, automotive, mass transportation, and specialty glazing.
Read more about SABIC's certified renewable LEXAN polycarbonate sheet & film technology here.
END
NOTES TO EDITORS
• SABIC and brands marked with ™ are trademarks of SABIC or its subsidiaries or affiliates.
• SABIC should be written in every instance in all uppercase.
ABOUT SABIC
SABIC is a global diversified chemicals company, headquartered in Riyadh, Saudi Arabia. It manufactures on a global scale in the Americas, Europe, Middle East and Asia Pacific, making distinctly different kinds of products: chemicals, commodity and high performance plastics, agri-nutrients and metals.
SABIC supports its customers by identifying and developing opportunities in key end-use applications such as construction, medical devices, packaging, agri-nutrients, electrical and electronics, transportation and clean energy. Production in 2020 was 60.8 million metric tons.
The company has more than 32,000 employees worldwide and operates in around 50 countries. Fostering innovation and a spirit of ingenuity, SABIC has 9,946 global patent filings, and has significant research resources with innovation hubs in five key geographies – USA, Europe, Middle East, South Asia and North Asia.
PHOTOS AND CAPTIONS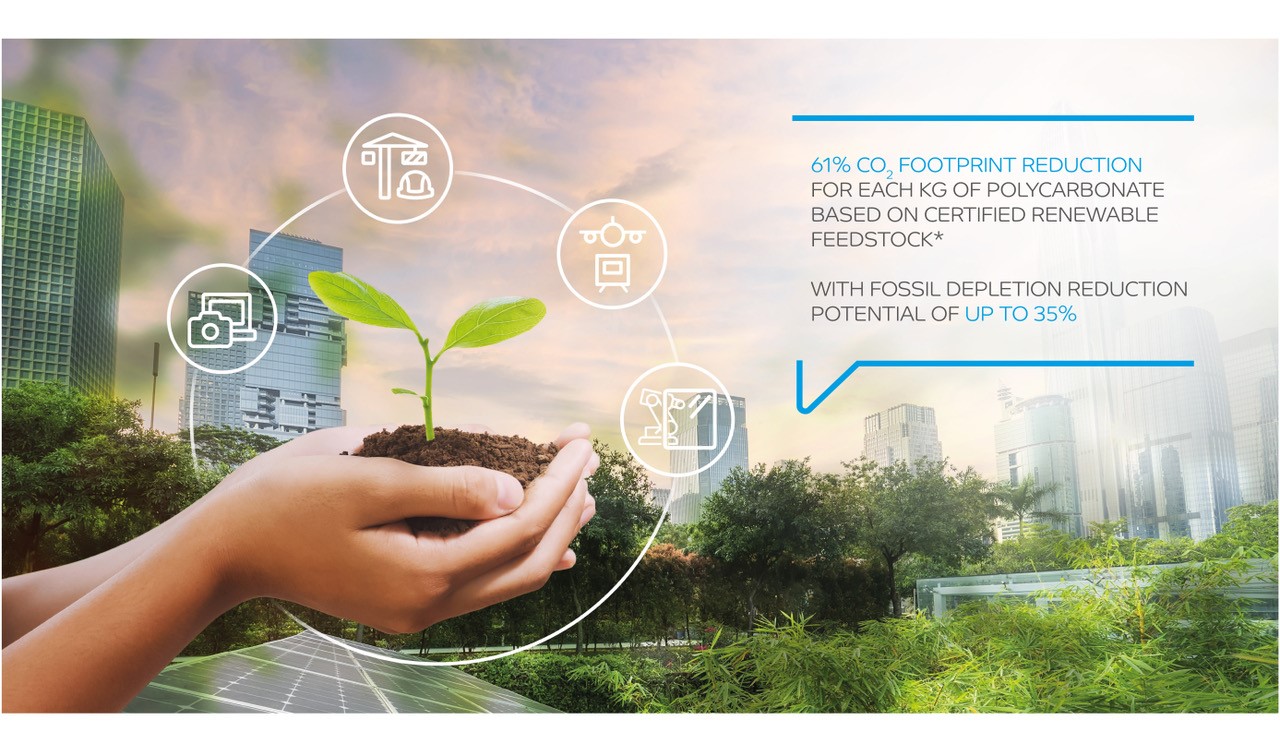 SABIC Functional Forms is offering a range of LEXAN™ film and sheet products based on polycarbonate resin partially sourced from certified renewable feedstock. The materials connect with the company's TRUCIRCLE™ portfolio and have a significant potential for reducing both fossil depletion and carbon emissions.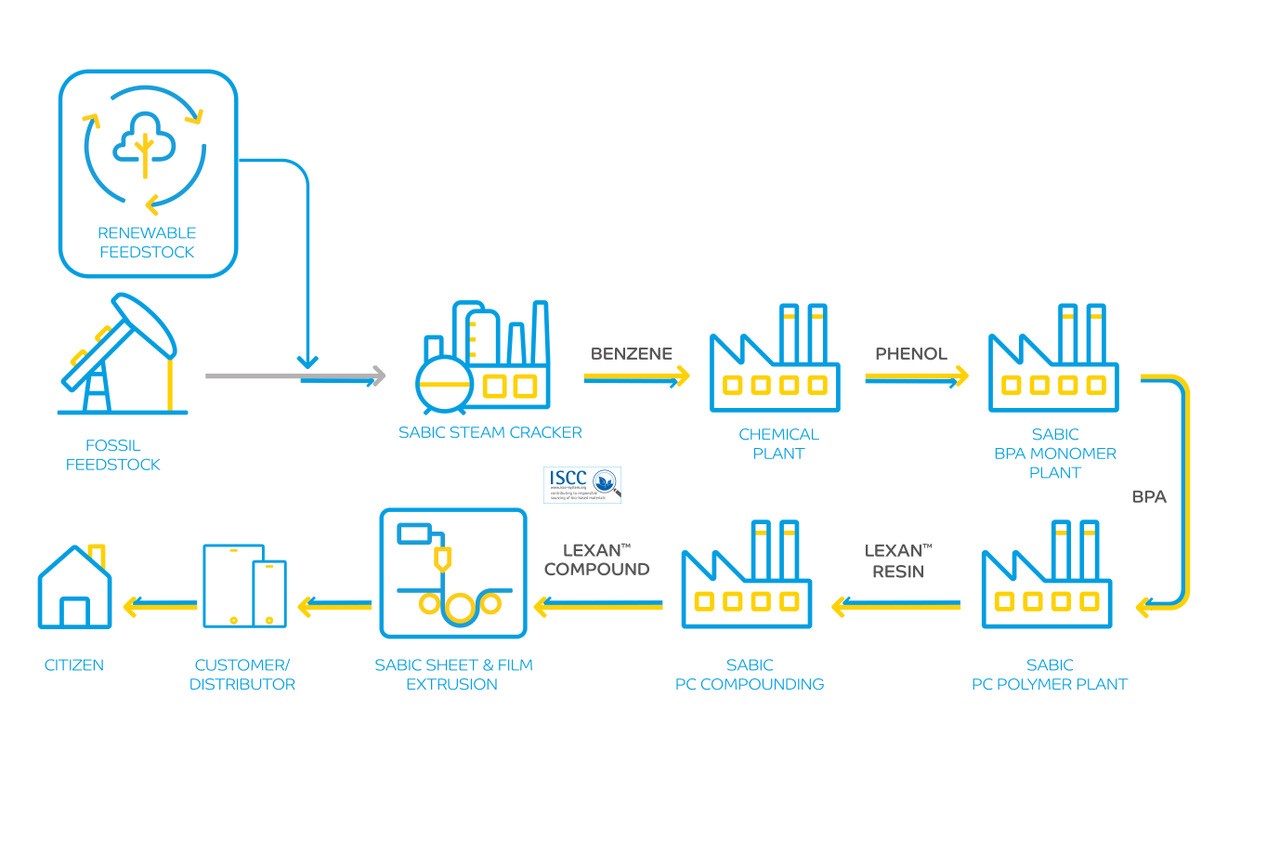 For ISCC PLUS certification, mass balancing must be validated across all steps of the value chain, from feedstock to the final product.
SABIC Media Contacts
Nicole Teljeur
T: +31 164 291 616
Marketing Solutions
Kevin Noels
E: knoels@marketing-solutions.com
T: +32 3 31 30 311
This press release and relevant photography can be downloaded from www.PressReleaseFinder.com.
Alternatively, for very high resolution pictures please contact:
Kevin Noels, knoels@marketing-solutions.com +32 3 31 30 311